The Snowbirds have fled
It's rainy, the Miami humidity has everyone cranky and the seaweed has taken over our picturesque beaches. Never fear Miami Spice is here and it's the perfect distraction from our sweltering temperatures. Miami Spice offers 3-course Prix fixe meals ($23 for lunch/brunch and $39 for dinner) from August -September at some of the Miami's best restaurants.
Miami Spice
Miami Spice is the perfect opportunity to try all the places you've been eyeing at an amazing price. With 100 options you'll have a hard time not finding something that appeals to you. I'd suggest picking four places you've been dying to try and hit a new place every two weeks. If you're really committed and happen to work out regularly why not up the anty and try a new place once a week. I have been to every single place on this list except Fiola but I  personally know 10 people who are legit foodies and highly recommend it. I've been Instagram stalking them but wanted to wait to see if they were going to do Miami Spice. Thankfully the food God's were merciful and made that happen.
My recommendations
For the best service in Miami-Forte Dei Marmi
This SoFi gem has a 2 star Michelin star at the helm and it shows. The minute you walk through the door at Forte Dei Marmi your every whim is anticipated. Miami Beach restaurants are not known for their service so when you get some of the best service of your life you have to shout it from the rooftops. Every course is thoughtfully prepared, incredibly fresh and the ambiance is refined but sexy.
My picks: Mediterranean Branzino Fillet and Honey Onyx Pistachio gelato.
The best Limoncello in Miami- La Moderna
With a complimentary welcome cocktail and $25 bottles of wine, La Moderna delivers more bang for your buck.  It is tucked away on a quiet breezeway and their outdoor seating is perfect for those who love to enjoy al fresco dining. They also have several yummy Vegan items. Be sure to have a glass of Limoncello before you leave. Theirs is the best I've had outside of Italy.
My Picks: Truffle & mushroom risotto and the Tiramisu
If you don't mind your food challenging the 4 states of matter-The Bazaar by José Andrés
Seriously, everything at The Bazaar by José Andrés is awe-inspiring. I'd love to say I can recommend something but everything is equally amazing. Like, Seriously. It's insane but I promise whatever you pick will be glorious.
My Pick: Everything
The best turkey Sammich I've ever had- ADDikt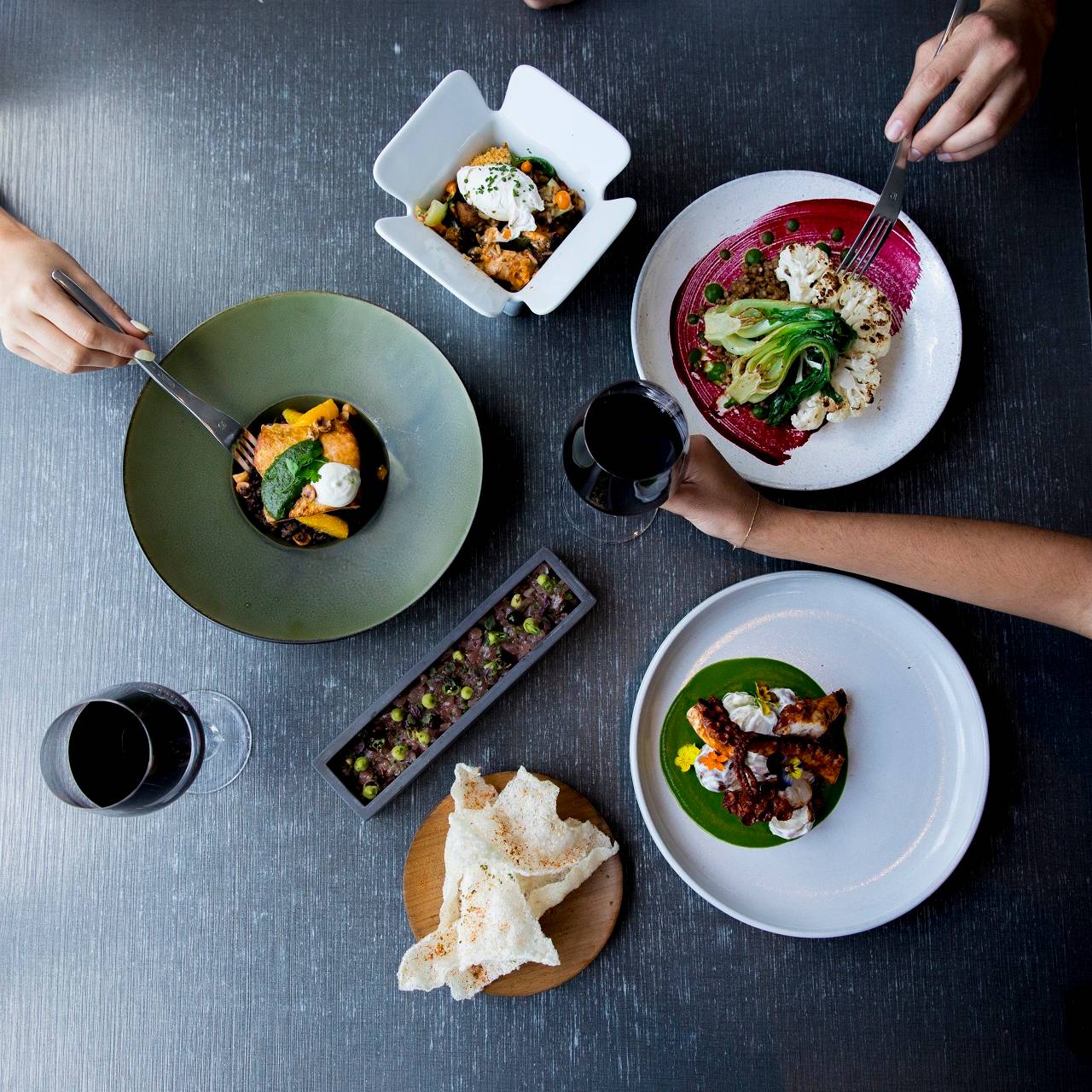 Every single thing on their Miami Spice menu is to die for. Many of the items have a Puerto Rican twist and all of his dishes made me miss my Nanna( she made the best Puerto Rican food).  I am not a sandwich girl. I usually end up removing the bread and eating the inside contents while my friends roll their eyes. That did not happen with ADDikt's Turkey sandwich. The turkey is roasted in house and all the toppings come together to make this the "Best" sandwich I've ever eaten. As I write this I'm making reservations for lunch. It is "that" good.
My Picks: The turkey Sandwich and the brownie
If you want to play with your Food- El Cielo Restaurant by Juan Manuel Barrientos
Go for the Miami spice but spring for the Chocolate ceremony. You're already getting a great deal on your meal so why not drop a few more coins at El Cielo Restaurant by Juan Manuel Barrientos for an unforgettable experience. It's not often that we get to play with our food so throw caution to the wind and get to licking. No one will judge I promise.
My picks: The Pork Loin and the chocolate ceremony
For burgers and bubbles- Ariette
I love burgers and tons of places in Miami claim to make the best one. This is my favorite burger in Miami. If you find a better one please feel free to tell me where! Every time I go to Ariete the burger is juicy, perfectly cooked, and melts in my mouth. The other highlight is the fries, they are crispy and always have just enough salt. Side note dear restaurants salt belongs on fries, Period. No ifs, ands, or buts.   This burger is a plated monument to beefy deliciousness. Run, don't walk to get this piece of heaven.
My Picks: Chug Burger and "The" Cookie
For a romantic night out- Byblos
It is always a great time when I get to go to Byblos. The food incredible and the decor is so well done that I have to pry myself away from the table to leave. It is one of those spaces that is strikingly beautiful and also happens to have amazing food.  They always manage to take traditional items and tweak them just enough to blow your mind. Their spice game is on point and every course is a revelation.
My Picks: Lamb Ribs and the Middle Eastern fried chicken
To see and be seen- Swan
When I want to eat well and look at all the pretty people I head to Swan.  Every single corner of the restaurant is stunning and their food offers a refined European vibe while still being approachable.  I like to think of Swan as your fun French friend that doesn't giggle too hard when you mispronounce croissant. The music is also great but that's to be expected when it's co-owned by Pharrel.
My Picks: Swan Cesar and the Branzino
For Italian that will knock your socks off- Fiola
Disclaimer, I have not dined at Fiola yet but a ton of my friend have and they will not shut up about it. With that being said every single blog and article I've seen on this place touts their amazing service and attention to detail. I'm planning on going for lunch and I am a little embarrassed about how excited I am.
My picks: Grilled Spicy Calamari and Pappardelle Bolognese
For cauliflower that will make you swoon-Kyu
KYU's roasted cauliflower tastes like a Unicorn and a Carebear had a love child. It comes out with the perfect amount of char on top of a pool of creamed shishito peppers and goat cheese. It is decadent and healthy. I can eat three heads by myself and still have an order of their Korean fried chicken( also a must-try). But back to the Cauliflower, It IS NOT TO BE MISSED.
My picks: Cauliflower and the coconut cake
This list is not done in any particular order. Every single place featured offers amazing food, great service, and incredible ambiance. Click here to see the full list of participating Miami spice restaurants. I would also highly recommend making reservations on OpenTable to secure your spot and possibly earn points towards a dinning gift card.
Carefree Coop was hosted by some of these restaurants but all opinions are my own.